My "Force Awakens"
December 24, 2015
Last week I included 6 links to newspaper reviews of the new Star Wars sequel. All of them pretty much praise the new flick. This week my wife and I saw the movie, so I can write my own review. The movie looks like it will make a billion dollars for Disney, so one bad review probably won't hurt.
While it's entertaining, "The Force Awakens" has several problems. First, is the gulf in acting talent between the old stars (Harrison Ford and Carrie Fisher) and some of the newcomers, second is the believability of the script and third is the dialogue.
Luckily, in my dreams the night after seeing the movie, I had some ideas.
In my version, Harrison Ford, is trying to organize a read-through of script changes, attempting to fix some of the issues that I criticize in my review. Of course I take over the part of Finn –the rebellious storm trooper played by John Boyega.
The real -life rehearsal takes place as I'm trying to type my critique for my blog on an old Smith Corona typewriter that I recently loaned to a friend who wanted real "typewriter typeface" for her holiday cards. Remember it's a dream sequence.
No one says any of this had to make sense, which is my main complaint about "The Force Awakens" – there are just too many plot twists that are not believable. The trick in creating great science fiction is that the viewer (or reader) suspends reality, but there are no obvious incongruities that force you to question the new reality.
For example, the evil First Order, can make a battle planet, but they can't seem to neutralize four rebel characters roaming their new high-tech weapon? I know the plot line has been used before in a galaxy far far away, but this time it was just too contrived.
The joy of the older Star Wars episodes was that they presented an escape from reality that was at least semi-believable. The new version is not, and the dialogue is often tortured – to the point of being painful. Boyega is, by far, the least capable actor, and since the conclusion leaves his fate up in the air, we can hope that he does not recover, and a new "new star" is born.
There are a number of other examples in the same vein, but it would just be piling on to mention them. Let's hope my new version gets made and this review becomes unnecessary.

CWAA: Can We All Agree – 12/19/15 Edition
December 19, 2015
Can we all agree that Paul Ryan is off to pretty good start as House Speaker, since he's been able to actually pass a budget bill?
Can we all agree that regardless of who's right, the DNC looks like they are taking sides in the Democratic primary battle?
Can we all agree that the new Star Wars movie was destined to make box office history weeks before it opened?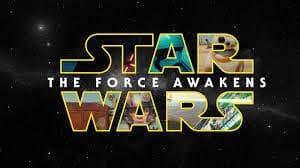 Can we all agree that after favorable reviews in the New York Times, Washington Post, Boston Globe, LA Times, Chicago Tribune,, SF Chronicle and virtually every other media outlet, the Star Wars movie will set attendance standards that may never be broken?
Can we all agree that the most troubling story of the week might be a reporter's account of attending a Donald Trump rally?
Can we all agree that a proposed FDA age limit on the use of tanning booths will be an enormous waste of time? No-one should use them.
Can we all agree that we didn't need scientists to tell us this was the hottest year on record?
Can we all agree that we're not sure if  UN approval of the Syrian 'peace process' will make any difference, but it's good PR?
Can we all agree that it's only a matter of time before the GOP jumps on the anti-Chinese immigration bandwagon, now that statistics show more immigrants from that country are coming to California than from Mexico?
Can we all agree that Cubans may be getting more than they bargained for, once regularly scheduled flights from the US begin?
Can we all agree that having  Mr. Putin endorse your candidacy may not be the best thing for your campaign?
Can we all agree that very few folks are shedding a tear for Martin Shkreli, the pharmaceutical exec who was arrested on fraud charges this week?
Can we all agree that we are at least relieved that there has not been more violence in Baltimore in the wake of the hung jury after the first trial in the Freddie Gray murder case?
Can we all agree that scheduling a Democratic debate on Saturday night has made it all but irrelevant – just like the DNC wanted?
Can we all agree that just four days after the most recent GOP debate no-one even remembers who won or lost?
Can we all agree that the stark contrast between the New York and Los Angeles school systems to a bomb-threat letter is a function of the distance from the most recent terrorist attack?
Can we all agree that the most gut wrenching story of the week was the City of Flint Michigan declaring a state of emergency over the lead poisoning of its children from the city's own drinking water?
Can we all agree that Journalistic integrity took a another body blow this week when it was revealed that billionaire Sheldon Adelson was the new owner of The Las Vegas Review Journal? Of course, the New York Times' major error didn't help either.
Can we all agree that the French citizenry struck a blow for tolerance when they voted against the far-right politics of Marine Le Pen? Could it happen here?
Can we all agree that we wish the Bill Cosby story would just disappear? I guess you could say the same for the Pete Rose saga.
Can we all agree that the strangest story of the week may be the Texas man who is suing Ford after he saw the truck he traded in, with his business logo still visible on the side, being used by ISIS in Syria?
Can we all agree that it's a bit disconcerting when a hospital system, such as Kaiser, decides to open a medical school to teach their own brand of medical care?
Can we all agree that this week's feel good story has to be Aaron Miller's encounter with basketball start LeBron James?

Can We All Agree – 11/21/15 edition
November 21, 2015
Can we all agree that an ISIS- Al Qaeda rivalry is not good news for anyone?
Can we all agree that we're thrilled to know that despite the Paris attacks Boko Haram maintained their first place standing in the terrorist rankings by murdering the most people over the last year?
Can we all agree that the Mali attack shows just how vulnerable the world is to terrorism? As if we didn't already know.
Can we all agree that the GOP has taken scare tactics to  new level as they debate restrictions on Syrian immigrants?
Can we all agree that the GOP candidates are even worse?
Can we all agree that Donald Trump has created a whole new category for himself?
Can we all agree that those supporting the effective end to any immigration seem to have forgotten how the Jews were not allowed to emigrate before WWII or how the Japanese were interned illegally in 1942?
Can we all agree that by their reasoning, since several of the Paris terrorists were French or Belgium citizens, we should no longer allow anyone from France or Belgium into the country either?
Can we all agree that there is a bit of inconsistency in  claiming to worry about the safety of Americans but refusing to stand up to the NRA and pass meaningful gun legislation?
Can we all agree that the folks in Sandy Hook, CT or Aurora, CO must be thrilled to know they will be safer because no Syrian refugees will be allowed to come to the United States.
Can we all agree that President Obama erred badly by just rejecting the the GOP bill without engaging in any meaningful negotiations to craft a bill he might have been able to support, or ignore?
Can we all agree that the GOP has managed to turn the immigration debate to their advantage?
Can we all agree that when the Paris attacks fade from voters' memory by Christmas, they will be right back where they started?
Can we all agree that the CIA and FBI and trying to use the same scare tactics to force US companies to alter their encryption policies?
Can we all agree that the campus 'free speech' movement has now officially become counter productive as students try to use sit-ins and demonstrations to object to policies they simply do not agree with?
Can we all agree that it is remarkable that for the first time the number of Mexicans leaving the US has surpassed the number trying to get in? Guess we won't need that wall after all.
Can we all agree that when California lawmakers  feel they must visit Hawaii for a conference to study the state's problems they are just adding to their own poor image?
Can we all agree that, given this week's news, no-one noticed that we have one less GOP Presidential candidate?
Can we all agree that when the newest Star Wars movie, which has not even been released, has already grossed $50 million in ticket sales, its safe to safe it's going to be a hit – even if it's a bad movie.
Can we all agree that we're starting to tire of all the El Nino stories? In the last month, it's already rained more in California that it has for the last two years.
Can we all agree that CNN is being a bit self serving in suspending a news anchor for a tweet?
Can we all agree that convicted spy Jonathan Pollard should just be allowed to move to Israel?
Can we all agree that the debate over genetically modified food will heat up again now that the FDA has allowed genetically altered salmon to be sold?
Can we all agree that the Egyptian government seems to be the only body which refuses to admit that a bomb brought down the Russian airliner?
Can we all agree that the least newsworthy story of the week was the news that Charlie Sheen is HIV positive?