CWAA: Can We All Agree™ – 10/7/17 edition
October 7, 2017
Can we all agree, the NRA has given Republicans permission to consider gun restrictions? I guess we should all feel grateful.
Can we all agree, the response from a majority of Americans is closer to  that of late-night talk show host Jimmy Kimmel?
Can we all agree, while most politicians only feel pressure to act when there is a mass shooting the real issue is guns and suicide?
Can we all agree, Rex Tillerson will not be our Secretary of State much longer?
Can we all agree, now that Mr. Trump has apparently decided to abrogate the nuclear deal with Iran we will have to rely on European leaders to make the world safer?
Can we all agree Lin-Manuel Miranda has a way with words?
Can we all agree the Narcissist in Chief must have been feeling ignored, so he reached out to Democrats, seeking a new health care compromise? Will Chuck and Nancy give him another victory?
Can we all agree, between their lies about their own tax plan and the Bannon revolt, the GOP has some serious issues to confront in the coming year?
Can we all agree, it's heartening to know that the courts are fighting back against Mr, Trump, his EPA chief Scott Pruitt and the rest of the lobbyists who run the department?
Can we all agree, the battle over birth control and the ACA has nothing to do with religion or abortion?
Can we all agree, no one really understands all the fuss about Harvey Weinstein's bad behavior? I'm neither shocked nor surprised.
Can we all agree, The House of Representative budget bill is totally irrelevant except that it allows the Senate to possibly pass the measure and the tax plan with majority votes – which they don't have yet?
Can we all agree, now that California will be a Sanctuary State in 2018, a lot more folks will encounter ICE agents at their front door?
Can we all agree, Americans, and Donald Trump , won't figure out how much Hurricane Maria has destroyed in Puerto Rico, until we start to have drug shortages on the mainland?
Can we all agree, no-one seems to care that a Senate report confirms that the Russians hacked the 2016 election and continues to disrupt our electoral process?
Can we all agree, we all knew politicians were hypocritical but it was nice that Rep. Tim Murphy reminded us how duplicitous they really are?
Can we all agree, The Captains of American industry muster have been very proud when a former member of their club (Equifax)  was able to blame all his problems on a single employee?
Can we all agree, we're glad the death rate from breast cancer is declining, but it would be even better is they could figure out the cause of the disease?
Can we all agree, Both Democrats and Republicans are to blame for gerrymandering but leaving it up the the Supreme Court will leave both sides unhappy?
Can we all agree, the aviation industry should be embarrassed by the Australian government's final report on the fate of Malaysian Airlines flight 370?
Can we all agree, Tom Petty left us way too soon?
Can we all agree, It's about time that a major US car maker realized electric cars are here to stay?
Can we all agree, we're wondering if Monte Hall is offering someone a deal, right now?
Can we all agree, the only reason Mr. Trump hasn't made a comment about the Catalonia independence vote, is that he has no idea where it is?
Can we all agree, we've all become immune to news of new data breaches and who has access to our personal information?
Can we all agree, Mr. Trump has been surprisingly silent on the death of 4 soldiers in Niger?
and finally:
This week's good read: The death of a man wrongly convicted and betrayed by the system

Our Population Future
July 8, 2017
My good friend Joe Aaron is an economic futurist – someone who gets paid to explain trends and what the future will hold.
I asked him about the recent report that the United States fertility rate had hit a new low, since it features prominently in his  conclusion that the country is headed for real trouble if we, as a nation of immigrants, don't change our policies.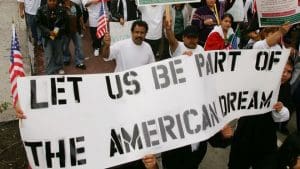 I asked if the news changed his opinion. This is his response:
"The short answer is no. It does not change my thinking on demographics here in the U.S. If you read between the lines, the article describes a part of our population, the Millennials, who are putting off having children and marriage. 
"The number one reason child birth is dropping in the civilized world today is economic. Young people can't afford children anymore or are unwilling to make the financial sacrifices. It cost half a million to raise a kid and send them to college. That explains why 20% of our population decides to stay childless.
"The more educated you are, the less likely you are to have an unwanted pregnancy. Women can now get birth control with ease.
Finally, a woman with a good education can have a career and financial independence. If she decides she wants to have a baby she can. She no longer needs a man.
Where demographics are changing in the in the U.S. is at the state level. For example, Maine's population is actually shrinking each year. Vermont is flat. New Hampshire's population is flat. But they will both join Maine in the dying category this decade.
These three states have a medium age of 42, the highest in the country. The medium age for the U.S. is 37. This means they are an ageing society. This means their citizens are aging out of the work force. If this trend continues, and I have no doubt it will, in 15 years this will impact the state gov't's credit rating.
These three states have an unemployment rates below 3%. This is too low. It puts upward pressure on wages. This in turn puts pressure on a business to consider leaving the state.
If you are a technology company, where are you going to find employees with technology skills? Imagine a recession caused by a lack of workers. It is possible there.
The glass is half empty for small towns and rural area. The kids are all leaving for the bigger cities. It is a brain drain. Manufacturing plants will have jobs that go unfilled. Schools will close.
I find little to be happy about when it comes to our nation's demographics. We better embrace immigration while people still want to come here."