CWAA: Can We All Agree™ – 12/23/17 edition
December 23, 2017
Can we all agree, the tax reform bill signed this week by Mr. Trump will be a tough sell to the American public since so many politicians, who voted for it, stand to gain personally – and that doesn't even include the President himself?
Can we all agree, the alleged moderate senators who caved in to GOP pressure got very little for their votes?
Can we all agree, the Catholic church might have been better served if Cardinal Bernard Law had been interred quietly without the Pope in attendance – given the outrage he continues to engender in Boston?
Can we all agree, Mr. Trump's nomination of unqualified  candidates for  Federal judgeships has already undermined the integrity of the courts?
Can we all agree, the latest court ruling against the administration's travel ban, will have little impact as long as the ban continues while the case moves through the court system?
Can we all agree, there has to be a better way to settle the Virginia state house election than just pulling a name out of a hat?
Can we all agree, the GOP is facing a daunting task in the 2018 elections and their internal war is not going to help?
Can we all agree, based on this list of contenders, Democrats will back just about anyone for 2020?
Can we all agree, the Thomas fire in Southern California has reached an unwelcome milestone as the largest fire in the state's history – although most of the evacuations have been cancelled?
Can we all agree, The President and the Republicans, can't seem to grasp the message Americans are sending by enrolling for the ACA in record numbers?
Can we all agree, Al Franken may be leaving the Senate in early January, but it's doubtful his voice will be silenced?
Can we all agree, Democrats deserve the criticism they will get for adjourning while continuing to allow the 'Dreamer' status to remain unresolved?
Can we all agree, Congress deserves no praise for passing a spending bill that, in reality, accomplishes the only thing they are supposed to do – keep the government running?
Can we all agree, Mr. Trump may have dodged one lawsuit over the emoluments clause, but there are more on the way?
Can we all agree, separating parents from children of immigrants crossing US borders illegally, is just cruel and should not be tolerated?
Can we all agree, until the North Koreans find a way to circumvent them, the latest round of UN sanctions sounds like the world is finally getting serious about stopping that country's nuclear program?
Can we all agree, Catalonians may never get a separate country, but they are making the Spanish government very nervous?
Can we all agree, steel industry workers are finding out the hard way, that Mr. Trump cannot fulfill his campaign promises?
Can we all agree, it's clear the Dutch were not ready for an American politician as US ambassador – they expected he would at least tell the truth?
Can we all agree, the latest Presidential coin is not a souvenir: it's a campaign prop?
Can we all agree, the founder of Papa Johns Pizza has discovered what happens when free speech meets free enterprise?
Can we all agree, every sports fan has a favorite memory of broadcast legend Dick Enberg?
Can we all agree, the United Nations sent a pretty clear message to the US when they ignored the President's threats,  and blasted his recognition of Jerusalem as Israel's capital?
Can we all agree, now that the opioid crises is being blamed for a decrease in life expectancy, the drug companies need to be held accountable?
Can we all agree, the administration has discovered that words matter?
Can we all agree, it sure looks like the Democrats are making plans for an impeachment after the 2018 election?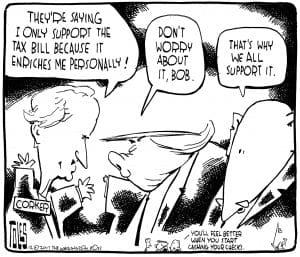 Can we all agree, just when you thought Vice President Mike Pence could not embarrass himself any more, he gives new meaning to the word sycophant?
Can we all agree, the Polish government has taken a dangerous turn to the right in reforming their judiciary?
Can we all agree, any other Republican President who was losing Fox News viewers would be considering resignation?
Can we all agree, few people believe Mr. Trump, when he says he will not fire Special Counsel Robert Mueller  especially since his legal team continues to criticize Mueller's office?
Can we all agree, travel over the holiday is getting a bit dicey with power problems in the Atlanta airport and  food service workers on strike in the Chicago airport?
Can we all agree the California cell phone advisory probably won't change the way people use their cell phones?
and finally:
A five-year-old catches up to the Grinch.
and
The World Chess Championship logo could change the sport's image forever.

CWAA: Can We All Agree™ – 7/15/17 edition
July 15, 2017
CWAA: Can We All Agree™ – 5/20/17 edition
May 20, 2017
CWAA: Can We All Agree – 1/28/17 edition
January 28, 2017
CWAA: Can We All Agree – 12/10/16 edition
December 10, 2016