CWAA: Can We All Agree – 10/29/16 edition
October 29, 2016
Can we all agree the Republican glee 0ver the re-opening on the inquiry into Hillary Clinton's email server may be short lived?
Can we all agree FBI director James Comey has gone from independent investigator to political hack?
Can we all agree the candidate's reactions were predictable, but Rush Limbaugh was pretty creative?
Can we all agree Mrs. Clinton would have preferred stories from Wikileaks on her husband's foundation over the FBI email probe?
Can we all agree that, until the email announcement, the week was filled with lists from Mr. Trump: potential conspirators, potential defendants, potential doners, and insults.
Can we all agree that we really don't know if the FBI has found anything?
Can we all agree it's probably not good for Mrs. Clinton that stories about potential cabinet choices have started to filter into the news?
Can we all agree Mrs. Clinton's fundraising advantage will mean little if Mr. Trump continues to get free media via the news?
Can we all agree, it's a bit ironic that the GOP, which is based on the principle of smaller government, is now controlled by a group of people who have been left behind economically, and want the government to bail them out?
Can we all agree it was hard to believe we were watching Fox News when Megan Kelly interviewed Newt Gingrich this week?
Can we all agree the best news of the week is the continued expansion of the nation's GDP?
Can we all agree we are incredulous at the not-guilty verdict handed down in the Oregon wildlife refuge case?
Can we all agree the verdicts will probably be much different when the cases against Indian protestors in South Dakota  are heard? Justice is apparently not blind any more.
Can we all agree the GOP has already undermined what little credibility they had left by promising continued inquiries if Mrs. Clinton wins the election?
Can we all agree, the idea that The Senate would simply refuse to consider any nominee for the Supreme Court for the next four years is just absurd –  except that it seems perfectly rational to Ted Cruz?
Can we all agree that it is sad we have to rely on the Supreme Court to decide social issues?
Can we all agree,  Justice Clarence Thomas is probably not a big fan of Mr. Trump now that the candidate's actions have encouraged victims of sexual assault to come forward??
Can we all agree that anything the government can do to cut down on those fake IRS robo-calls is welcomed?
Can we all agree the FDA's decision to test a lung cancer drug developed in Cuba is surprising, but the war on cancer can't afford to snub any potential cures just because they were not developed in the US?
Can we all agree no-one is surprised that ISIS fighters are using civilians as human shields as they defend the City of Mosul?
Can we all agree the FCC's decision to give us more control over personal data is the right move, although we'll probably give it away when we routinely agree to the next service contract we approve with our internet providers?
Can we all agree it's too bad it took election politics to get the  Pentagon to suspend their demands that National Guard veterans repay bonuses? But what will happen to those who already struggled to repay the debt they didn't know they had?
Can we all agree that every time we visit a pharmacy to pick up a prescription we should remember how much lobbying went in to keeping the price high?
Can we all agree removing the Calais camp, known as 'The Jungle' will not solve the EU's migrant crises?
Can we all agree it's about time someone looked at the effect of a soccer ball on player's heads?
Can we all agree we should be encouraging people to vote, not thinking up ways to prevent it?
Can we all agree there might be a connection between the spate of early retirements from the NFL and the drop in TV ratings?
Can we all agree that even though premiums for insurance coverage under the Affordable Care Act are increasing most policy holders still think it's a good deal?
And finally:
Make sure you watch Tom Hanks on last week's Saturday Night Live Black Jeopardy skit.
It's about time Marlowe got some credit for helping out Shakespeare.
And next time you're at the beach, toss a message in a bottle into the water and wait 20 years to see what happens.

CWAA: Can We All Agree – 1/30/16 edition
January 30, 2016
Can we all agree that Angelique Kerber's win over Serena Williams at the Australian open will give hope to underdogs everywhere?
Can we all agree that Hillary's email issues will continue to hurt her campaign, but will probably not derail it? And, by the way, why doesn't anyone remember the emails that disappeared from George W. Bush's private email server?
Can we all agree that Donald Trump won his battle this week with Fox News? Ratings were down and all anyone talked about was the fact that he was not at the debate.
Can we all agree, speaking of the GOP debate, Ted Cruz seemed to be the biggest loser?
Can we all agree that Facebook should be applauded for finally taking a stand against gun sales on its websites?
Can we all agree that the overall economy's anemic growth in the last quarter seems to fly in the face of what's happening in some parts of the country?
Can we all agree that while the death of one protestor in Oregon is tragic, the government seems to have defused the situation successfully?
Can we all agree the zika virus outbreaks are terrifying for pregnant women or anyone thinking of having a baby? This probably adds to their anxiety and depression.
Can we all agree that the indictment of the anti-abortion filmmakers, especially by a Texas grand jury, is unbelievably great news? Too bad the GOP and other so called 'pro-lifers' will not let the facts get in the way of continued use of the discredited videos.
Can we all agree that while it might be the politically correct thing to do, Barbie is no longer 'Barbie' is there are 8 different versions?
Can we all agree that, given the controversies during Michael Jackson's life, it seems only natural that his racial ambiguity would continue to cause issues after his death?
Can we all agree that if it takes you 16 hours to figure out that 3 men in your custody have escaped, you have a problem?
Can we all agree that while the NFL has been slow to wake up to the long term impact of concussions, the NCAA remains tragically far behind?
Can we all agree that Florida State University is continuing to put its football program ahead of the rights of women?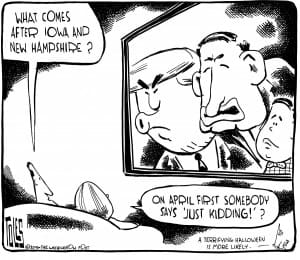 Can we all agree, getting back to politics, that when Republican voters see Trump as the most electable candidate but world leaders see him (and Ted Cruz) as impossible to work with, we have a serious problem?
Can we all agree that the President's step to normalize relations with Cuba have reached the point that they cannot be undone by the next president?
Can we all agree, that while it may seem unfair that no actors of color were nominated for Academy Awards this year, asking the voters to choose performances based on racial equality would be just as bad?
Can we all agree that completing 7 marathons, on 7 continents in 7 days is simply unbelievable? How do you train for that?