A Good Read
February 19, 2012
There are all kinds of book reviews. Those that wax poetic about sentence structure and pacing and the finer points of writing, without giving you any indication what a book is about.
Then there are those who  tell you the whole story and never tell you if the book is worth buying.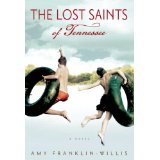 For me, book reviews should be short and to the point.
If you are looking for a good read,  pick up a copy of the "The Lost Saints of Tennessee" by Amy Franklin-Willis. –  a debut novel in the best Southern literature tradition.
The genre is really beside the point. I don't really read a lot of fiction and I'm not from the South, but I can honestly say, when I got to the last page, I didn't want the story to end. To me that's the mark of fine writing.
It's good to know Ms Franklin-Willis is already working on the sequel.