'Rules' in Need of Adjustment
November 18, 2015
I just finished reading Laszlo Bock's 'Work Rules' and while I can't say there's anything wrong with the book I definitely think it needs an attitude adjustment.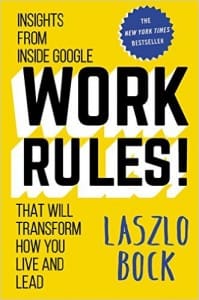 Bock is Google's head of People Operations, which is an advanced version of what most people would know as human resources. Like many hi-tech firms, Google feels HR is an outdated term and doesn't really explain what the department does. In truth, at least at Google, the department does a lot more than traditional HR departments.
But that's really part of the problem. Bock presents a myriad of suggestions  for managing, promoting, recruiting and measuring employees or potential employees. Many of the procedures were developed at the company using statistical models developed by Google and all are presented as a common sense logical alternative to the way  other firms operate. A common refrain is simply "why would you do it any other way?"
This rationale comes despite that fact that the new procedures represent significant changes from the way Google used to do things, which were also supposedly based on statistical models and were  logical conclusions to the way things should be done.
Old methodology which has now been jettisoned include minimal middle management and the well known brain teasers which stumped thousands of job seekers.
Bock admits what everyone else in HR had been telling them for years: Everyone needs management and brain teasers only test how well someone can solve a specific problem, not overall creativity or performance.
The reality is, that despite their reliance on statistics, Google's employee turnover  is no better than many other firms and they felt obliged to sign on to an illegal agreement with other tech firms not to poach employees. That case has been settled but the issue has not disappeared.
While there are a plethora of great ideas in the book, that many firms would do well to consider, my problem  is really an attitude issue. Much like a lot of other actions which aggravated many people, (such as private buses using public bus stops) Google seems to assume that what they do should not face the same scrutiny as others.
Other firms, they seem to feel, should be grateful that Google has shared their ideas so openly and should adopt them. That may be true, since there is a lot of bad management at most companies, but no-one likes to be told what is right for them.
In truth the best use for the book, might be for potential employees who want to figure out what principles will govern their potential employment.
And for that reason, I will suggest it for all my career clients, although I will warn them about the attitude adjustment that may be in order.

Who am I?
June 21, 2013
So, Why Does the World Exist?
May 10, 2013
We Are All Dishonest
October 30, 2012
What's Going On in Your Brain
September 21, 2012
Shuttle Comes to the Bay Area
Happiness is Everywhere
April 5, 2012
A Good Read
February 19, 2012
What Color IS your Parachute? – A Review
October 24, 2011
Dealing with Pain
September 29, 2011
Older Posts »