CWAA: A Tipping point
January 25, 2016
I recently had lunch at a small hometown restaurant. They served various vegan alternatives, grass fed beef, and all organic vegetables.
But the menu is not the point. When the check arrived I noticed there was no spot for a tip but that an 18% service charge had been added.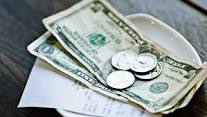 As a San Francisco resident I'm aware of the national debate over tipping in restaurants.
In an effort to equalize pay between front of the house waitstaff, and back of the house cooks and other employees, many  larger restaurants are experimenting with eliminating tips.
This was the first time I had seen it in practice at a smaller business.
In my younger days I spent many hours working as a cook, dishwasher and  bus boy and am painfully aware of the disparity in pay. While the waitstaff is the face of the restaurant, they are dependent on the kitchen for the quality of the meal, the dishwasher to make sure everything is cleaned and the busboys to ensure table turnover.
The dining experience is a combination of everything, so why should the waitstaff be the only folks to benefit.
Minimum wage laws have tried to bridge the gap and have led to the latest version of experimentation.
So, when the waitress returned to collect my payment I couldn't help but do  little market research.
"How long have you been a no-tip restaurant?" I asked.
"Two or three months,"  she said. "And?" I asked waiting for a diatribe on how much less she was making and how she hated the new system.
She surprised me with "I love it," and went to explain that every week they get a full financial statement from the owners, explaining gross receipts, tax and expenses and an explanation of what they were receiving as pay.
"My pay is much more predictable, and while it's a bit less than I made before the switch, as long as business overall is good, we do fine." She said the most of the other staffers felt the same way and that she thought the kitchen staff was much easier to deal with, now that they had a direct impact on their own pay.
She then added that the most important factor was the openness of the owners to list the overall gross receipts and expenses and explain how the pay was calculated. "I can see how that might be a problem at other locations, but here they are very open, and we all know what's going on."
I wish the results at other restaurants had been as clear cut. And, from a management standpoint I doubt every owner would be able to be that open. But this was a small business with a stake in the community and their philosophy seemed to fit the spirit of the no-tip effort.
Can we all agree that all restaurants should adopt this system.
American restaurants should take a page from their European counterparts and professionalize every aspect of the dining experience. We would no longer have to agonize over what tip amount was correct and the the overall restaurant experience would be enhanced.
If everyone from dishwasher to executive chef knew that their pay was contingent on keeping the customers happy and ensuring a return visit we'd all be a lot better off.

Getting Away, Southwest Style
July 16, 2013
Manhunt Management Decisions
April 19, 2013
It's Been A While
February 3, 2012
What Color IS your Parachute? – A Review
October 24, 2011
Can This be Right?
August 31, 2011
Public Speaking 101
August 3, 2011
What's Important in Business
June 13, 2011
"Just Stop It," Rarely Works
May 30, 2011
"Feel the Fear" – Dated but Worth a Read
May 19, 2011
Older Posts »