CWAA: Can We All Agree™ – 12/23/17 edition
December 23, 2017
Can we all agree, the tax reform bill signed this week by Mr. Trump will be a tough sell to the American public since so many politicians, who voted for it, stand to gain personally – and that doesn't even include the President himself?
Can we all agree, the alleged moderate senators who caved in to GOP pressure got very little for their votes?
Can we all agree, the Catholic church might have been better served if Cardinal Bernard Law had been interred quietly without the Pope in attendance – given the outrage he continues to engender in Boston?
Can we all agree, Mr. Trump's nomination of unqualified  candidates for  Federal judgeships has already undermined the integrity of the courts?
Can we all agree, the latest court ruling against the administration's travel ban, will have little impact as long as the ban continues while the case moves through the court system?
Can we all agree, there has to be a better way to settle the Virginia state house election than just pulling a name out of a hat?
Can we all agree, the GOP is facing a daunting task in the 2018 elections and their internal war is not going to help?
Can we all agree, based on this list of contenders, Democrats will back just about anyone for 2020?
Can we all agree, the Thomas fire in Southern California has reached an unwelcome milestone as the largest fire in the state's history – although most of the evacuations have been cancelled?
Can we all agree, The President and the Republicans, can't seem to grasp the message Americans are sending by enrolling for the ACA in record numbers?
Can we all agree, Al Franken may be leaving the Senate in early January, but it's doubtful his voice will be silenced?
Can we all agree, Democrats deserve the criticism they will get for adjourning while continuing to allow the 'Dreamer' status to remain unresolved?
Can we all agree, Congress deserves no praise for passing a spending bill that, in reality, accomplishes the only thing they are supposed to do – keep the government running?
Can we all agree, Mr. Trump may have dodged one lawsuit over the emoluments clause, but there are more on the way?
Can we all agree, separating parents from children of immigrants crossing US borders illegally, is just cruel and should not be tolerated?
Can we all agree, until the North Koreans find a way to circumvent them, the latest round of UN sanctions sounds like the world is finally getting serious about stopping that country's nuclear program?
Can we all agree, Catalonians may never get a separate country, but they are making the Spanish government very nervous?
Can we all agree, steel industry workers are finding out the hard way, that Mr. Trump cannot fulfill his campaign promises?
Can we all agree, it's clear the Dutch were not ready for an American politician as US ambassador – they expected he would at least tell the truth?
Can we all agree, the latest Presidential coin is not a souvenir: it's a campaign prop?
Can we all agree, the founder of Papa Johns Pizza has discovered what happens when free speech meets free enterprise?
Can we all agree, every sports fan has a favorite memory of broadcast legend Dick Enberg?
Can we all agree, the United Nations sent a pretty clear message to the US when they ignored the President's threats,  and blasted his recognition of Jerusalem as Israel's capital?
Can we all agree, now that the opioid crises is being blamed for a decrease in life expectancy, the drug companies need to be held accountable?
Can we all agree, the administration has discovered that words matter?
Can we all agree, it sure looks like the Democrats are making plans for an impeachment after the 2018 election?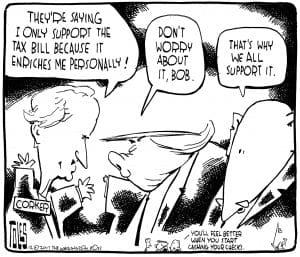 Can we all agree, just when you thought Vice President Mike Pence could not embarrass himself any more, he gives new meaning to the word sycophant?
Can we all agree, the Polish government has taken a dangerous turn to the right in reforming their judiciary?
Can we all agree, any other Republican President who was losing Fox News viewers would be considering resignation?
Can we all agree, few people believe Mr. Trump, when he says he will not fire Special Counsel Robert Mueller  especially since his legal team continues to criticize Mueller's office?
Can we all agree, travel over the holiday is getting a bit dicey with power problems in the Atlanta airport and  food service workers on strike in the Chicago airport?
Can we all agree the California cell phone advisory probably won't change the way people use their cell phones?
and finally:
A five-year-old catches up to the Grinch.
and
The World Chess Championship logo could change the sport's image forever.

CWAA: Can We All Agree – 2/4/17 edition
February 4, 2017
Can we all agree, after two weeks, our President's act is already getting a bit old – someone disagrees with a policy, so you mock them on Twitter?
Can we all agree, Mr. Trump seems to believe you can treat world leaders the same way?
Can we all agree Mr. Trump doesn't understand that his job is not a video game, people's lives are changed, battles will be fought, people will die, because of his oversized ego?
Can we all agree, someone needs to tell the President his hair growth drug is not working?
Can we all agree, it won't take long for Republicans to tire of cleaning up the President's messes? "Attention K-Mart shoppers: Cleanup on aisle 7…"
Can we all agree, even if the travel ban is overturned by the courts, it has forever damaged our reputation as a nation of immigrants?
Can we all agree when you manage to get Koch Industries and Silicon Valley on the same side of an issue, you must have really messed up?
Can we all agree Mr. Trump's immigration ban is not making us safer because terrorists groups are just using it as a recruiting tool?
Can we all agree Mr. Trump can fire all the people he wants, but he will need career government workers on his side to effectively implement any of his policies?
Can we all agree the United States appears to have abandoned the Ukraine  and the rest of Europe is scared to death?
Can we all agree, Mr. Trump's foreign policy decisions are undermining every international relationship we have, because even when he embraces a policy, he changes his mind in a few days?
Can we all agree Vladimir Putin's visit to Europe this week was just a shopping trip to see what countries were available? And the Europeans know they are powerless to stop him without the United States?
Can we all agree it's nice to see Mr. Obama and his wife enjoying their time away from the White House, but we would all prefer they come back…now?
Can we all agree the GOP may have accomplished their mission to destroy the Affordable Care Act, by reducing  confidence that it will continue to exist thereby decreasing enrollment?
Can we all agree it appears that some members of Congress have come to their senses and realized 23 million voters depend on the ACA?
Can we all agree, it would be nice to think, the nominee to be Secretary of the Army, was putting country above business, but his withdrawal was simple economics – he didn't want to give the money he was making?
Can we all agree that eventually the GOP will approve a cabinet for the President but the process will reveal their own lack of  principles?
Can we all agree, Mr Trump has lied once again in saying that  his trust distances him from his business holdings?
Can we all agree Kelleyanne Conway's ability to be an effective spokesperson for the administration was reduced to zero this week when she made up events to back up her lies?
Can we all agree the President seems to feel that fear is the best way to govern, because he has no other source of authority? But he is learning the hard way that leaks will undermine everything he tries to do.
Can we all agree he is sowing the seeds for an internal upheaval driven by violence and hate?
Can we all agree Mr. Trump doesn't seem to understand why  American companies are backing away from dealing with him?
Can we all agree the effect of undoing the financial reforms of 2008 will be felt by average consumer, long after Mr. Trump has left office?
Can we all agree Mr. Trump's speech at this week's prayer breakfast was bizarre, even by his low standards?
Can we all agree the administration's goal to allow non-profits and churches to espouse political views will be refreshing for the many minority churches who oppose him?
Can we all agree, despite what some voters think, the economy in the Obama administration was the strongest it has been in 20 years?
Can we all agree it's unfortunate that politics has even invaded the Super Bowl?
Can we all agree Milo Yiannopoulos would have a meager audience without the violence he encourages?
Can we all agree he should be allowed to speak so people would understand how little he has to say? And by the way, those protestors at Berkeley (where I live) had nothing to do with the University of California.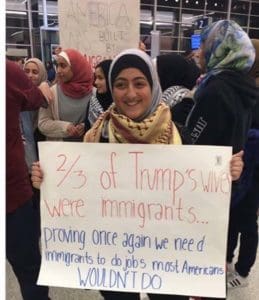 Can we all agree Supreme Court nominee Neil Gorsuch will probably win approval since a number of Democrats up for re-election are afraid to oppose him despite his mother's incompetence and his far right background?
Can we all agree it would appear that San Francisco and Austin will be the battle ground for the sanctuary city movement to protect immigrants already in this country?
Can we all agree Mr. Trump doesn't need to be religious, but he should understand the role religion plays in the lives of many people around the world?
Can we all agree a political hack like Stephen Bannon has no business being on the National Security Council, that's why there is a law against it?
And finally, in case you missed it, youth football  is trying to take steps to make the sport safer, so that mothers will let their children play again.