CWAA: Can We All Agree – 2/4/17 edition
February 4, 2017
Can we all agree, after two weeks, our President's act is already getting a bit old – someone disagrees with a policy, so you mock them on Twitter?
Can we all agree, Mr. Trump seems to believe you can treat world leaders the same way?
Can we all agree Mr. Trump doesn't understand that his job is not a video game, people's lives are changed, battles will be fought, people will die, because of his oversized ego?
Can we all agree, someone needs to tell the President his hair growth drug is not working?
Can we all agree, it won't take long for Republicans to tire of cleaning up the President's messes? "Attention K-Mart shoppers: Cleanup on aisle 7…"
Can we all agree, even if the travel ban is overturned by the courts, it has forever damaged our reputation as a nation of immigrants?
Can we all agree when you manage to get Koch Industries and Silicon Valley on the same side of an issue, you must have really messed up?
Can we all agree Mr. Trump's immigration ban is not making us safer because terrorists groups are just using it as a recruiting tool?
Can we all agree Mr. Trump can fire all the people he wants, but he will need career government workers on his side to effectively implement any of his policies?
Can we all agree the United States appears to have abandoned the Ukraine  and the rest of Europe is scared to death?
Can we all agree, Mr. Trump's foreign policy decisions are undermining every international relationship we have, because even when he embraces a policy, he changes his mind in a few days?
Can we all agree Vladimir Putin's visit to Europe this week was just a shopping trip to see what countries were available? And the Europeans know they are powerless to stop him without the United States?
Can we all agree it's nice to see Mr. Obama and his wife enjoying their time away from the White House, but we would all prefer they come back…now?
Can we all agree the GOP may have accomplished their mission to destroy the Affordable Care Act, by reducing  confidence that it will continue to exist thereby decreasing enrollment?
Can we all agree it appears that some members of Congress have come to their senses and realized 23 million voters depend on the ACA?
Can we all agree, it would be nice to think, the nominee to be Secretary of the Army, was putting country above business, but his withdrawal was simple economics – he didn't want to give the money he was making?
Can we all agree that eventually the GOP will approve a cabinet for the President but the process will reveal their own lack of  principles?
Can we all agree, Mr Trump has lied once again in saying that  his trust distances him from his business holdings?
Can we all agree Kelleyanne Conway's ability to be an effective spokesperson for the administration was reduced to zero this week when she made up events to back up her lies?
Can we all agree the President seems to feel that fear is the best way to govern, because he has no other source of authority? But he is learning the hard way that leaks will undermine everything he tries to do.
Can we all agree he is sowing the seeds for an internal upheaval driven by violence and hate?
Can we all agree Mr. Trump doesn't seem to understand why  American companies are backing away from dealing with him?
Can we all agree the effect of undoing the financial reforms of 2008 will be felt by average consumer, long after Mr. Trump has left office?
Can we all agree Mr. Trump's speech at this week's prayer breakfast was bizarre, even by his low standards?
Can we all agree the administration's goal to allow non-profits and churches to espouse political views will be refreshing for the many minority churches who oppose him?
Can we all agree, despite what some voters think, the economy in the Obama administration was the strongest it has been in 20 years?
Can we all agree it's unfortunate that politics has even invaded the Super Bowl?
Can we all agree Milo Yiannopoulos would have a meager audience without the violence he encourages?
Can we all agree he should be allowed to speak so people would understand how little he has to say? And by the way, those protestors at Berkeley (where I live) had nothing to do with the University of California.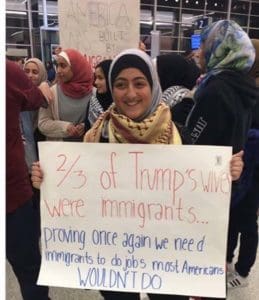 Can we all agree Supreme Court nominee Neil Gorsuch will probably win approval since a number of Democrats up for re-election are afraid to oppose him despite his mother's incompetence and his far right background?
Can we all agree it would appear that San Francisco and Austin will be the battle ground for the sanctuary city movement to protect immigrants already in this country?
Can we all agree Mr. Trump doesn't need to be religious, but he should understand the role religion plays in the lives of many people around the world?
Can we all agree a political hack like Stephen Bannon has no business being on the National Security Council, that's why there is a law against it?
And finally, in case you missed it, youth football  is trying to take steps to make the sport safer, so that mothers will let their children play again.

Can We All Agree – 9/19/15 Edition
September 19, 2015
Scroll down for my special debate edition of CWAA. I thought I'd reserve this one for the real news of the week.
Can we all agree that the war in Syria is taking an ominous turn as Russia apparently stations fighter jets inside the country? At least the US and Russia have agreed to military talks.
Can we all agree that Fed decision to keep rates unchanged was this week's biggest non-story? Just don't tell the markets, which tanked on Friday.
Can we all agree that the slow motion disaster that is the EU response to the refugee crises will continue as long as there is open warfare or until the country is simply empty?
Can we all agree that it looks bad when a car manufacturer (VW) installs software deliberately meant to avoid accurate emission readings?
Can we all agree that GM might have gotten off easy with 'only' a $900m fine for failing to cooperate in the government investigation of failed ignition switches?
Can we all agree that as long as Congress continues to waste time on bills that have no chance of becoming law,  they will be blamed for the expected government shutdown on October 1?
Can we all agree that with the appointment of Eric Fanning as Secretary of the Army we've come a long way from "Don't ask, don't tell?"
Can we all agree that, of all the tragic stories coming out of the California wildfires, you really have to feel for firefighters on the front lines taking phone calls from loved ones evacuating their homes which are about to burn to the ground?
Can we all agree that the idea of an LA to Las Vegas express train might make sense to Angelinos, but the fact that it might be  built in part by a Chinese company, gives everyone some pause?
Can we all agree that, with the Pope in town,  next week might not be the best time for a quick visit to Washington DC, New York or Philadelphia?
Can we all agree, speaking of travel, that making it easier for Americans to reach Cuba is just the next step in normalized relations?
Can we all agree that, whether you're a big beer drinker or not, the thought of having one giant multi-national making most of the world's beer is enough to, well, make you want drink, of something?
Can we all agree that with the number of uninsured American dropping like a stone, it gets tougher and tougher for any politician to call for getting rid of the Affordable Care Act? Although most of the hardcore repealers never let the facts get in the way of a good rant.
Can we all agree that an anti-muslim bias played a large part in the arrest of a 9th grader who brought a home-made clock to school to show his science teacher? Can we all agree he'll have his choice of jobs, once he finishes school?
Can we all agree that, if it weren't talking about nuclear missiles,  North Korea's attempts to make itself the center of the world are really getting pretty desperate?
Can we all agree that an announcement that the Sierra snow pack has hit a 500-year low, really has no meaning for most people? Who measured 500 years ago?
Can we all agree that when a major country such as Australia, changes leaders overnight, it's a bit disconcerting?
Can we all agree that Vanessa Williams' apology from the Miss American Pageant sponsors was nice but really, it was about 32 years late?
Can we all agree that very few people can even name pageant winner since Ms. Williams?
Can we all agree that Egypt didn't do their still recovering tourism industry any favors when they gunned down a group of Mexican tourists traveling through the desert?
And last but not least:
Can we all agree that the Ig-Nobel prizes always give us something to think about, seriously…?