CWAA: Can We All Agree – 12/3/16 edition
December 3, 2016
Can we all agree the 178,000 jobs created last month proves, once again, that the economy created by Mr. Obama is the strongest in the world?
Can we all agree, most Americans have been too preoccupied to notice the troubles brewing in France and Italy?
Can we all agree it's great to have a rock-star chess champion?
Can we all agree Vladimir Putin is already trying to take advantage of the change in US leadership?
Can we all agree we hope Howard Schultz made a better choice for his replacement this time, than he did when he retired from his post at Starbucks a few years ago?
Can we all agree the Colombian government did the right thing in quickly approving a new peace agreement with FARC rebels?
Can we all agree OPEC will have to cut production a lot more than 4% if they really want to impact oil prices? The fact that they got Russia to agree to cut output is significant.
Can we all agree the re-election of Rep. Nancy Pelosi to her role as House Minority leader is a win for  Democratic Party unity, but also a win for the GOP?
Can we all agree The Princess Cruise Lines and their parent, Carnival, deserve more than a fine for polluting the oceans they travel and then lying about it?
Can we all agree, that despite the cost ($108Billion), tying student loan repayment to income is the right way to help graduates manage their loans?
Can we all agree Mr. Obama's strategy of trying to finalize as many rules as possible before he leaves office might help slow the reversals everyone knows are coming?
Can we all agree James Deligatti should be saluted for his contribution to McDonald's bottom line, but nutritionists everywhere hold him at least partially responsible for the world's obesity epidemic? Second place might go to the inventor of General Tso's chicken.
Can we all agree the Dakota pipeline protest does not look like it will end well for the protestors?
Can we all agree Canadian Prime Minister Justin Trudeau might have been a bit off base in his rosy assessment of Fidel Castro's contributions to Cuban education and health care?
OK, now on to Mr. Trump:
Can we all agree Donald Trump gets more credit for saving 700 jobs (at a cost of $7 million) than Mr. Obama does for creating 178,000?
Can we all agree that, based on his phone calls to the leaders in Pakistan and now Taiwan, Donald Trump has no idea what diplomacy is all about?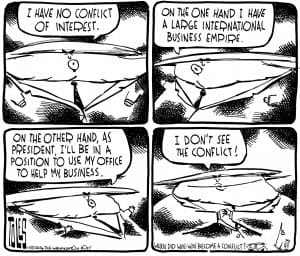 Can we all agree the list of possible conflicts of interest with the Trump presidency, in both real estate and stocks, are almost too long to list?
Can we all agree the silence from the GOP leaders on the obvious conflicts is deafening?
Can we all agree we will have a cabinet of Goldman Sachs, by Goldman Sachs and for Goldman Sachs?
Can we all agree it's mind boggling that a man who was unfit to be a federal judge will now be attorney general?
Can we all agree it's still an open question on whether the deal with Carrier actually saved any jobs, although it's clear the company made $7 million?
Can we all agree, nominating someone who is legally unable to take the post of defense secretary is the definition of hubris?
Can we all agree the clash between the Clinton and Trump campaigns is a microcosm of conversations going on across the nation? Well, maybe a bit more heated…
Can we all agree that a cabinet with 4 billionaires, 3 millionaires and the wife of the Senate majority leader, doesn't sound like a blue-collar administration that will 'drain the swamp'?
Can we all agree everyone is trying to figure out which campaign promises Trump will actually keep?
Can we all agree, it's a bit mystifying that Trump would try to stop the recounts in Michigan, Pennsylvania and Wisconsin?
Can we all agree a twitter Presidency is one thing, a lying President is another, but a lying-tweeting President is an entirely new animal?
Can we all agree, at least all of us in California, are proud that our state university system has stepped up to oppose Trump and help protect students who may face deportation?
Can we ll agree, given the  backlog in immigration courts, adding an additional 3 million cases could delay any deporations until 2020 anyway?
and finally:
Take a look at the secret life of bees.
and ultimately, a story of hope, from the Boston Globe.