CWAA: Can We All Agree™ – 12/16/17 edition
December 16, 2017
Can we all agree, the Republicans will probably get their victory by passing a tax bill, but it's doubtful the measure will get any more popular once the average taxpayer finds out what's in it?
Can we all agree, the elimination of net neutrality will mean two things: lawsuits, and eventually, higher internet access fees for all of us?
Can we all agree, Doug Jones's win in Alabama is a great victory for Democrats, but his chances of winning re-election in 2020 are slim
Can we all agree, prohibiting a public health agency (CDC) from using words such as 'transgender' or 'diversity' should not be tolerated in a Democratic society?
Can we all agree, the biggest winner when Senator Jones takes office, might be Maine Senator Susan Collins, especially if she decides to become an independent?
Can we all agree, every time we think Mr. Trump  can't descend to a new level of depravity, he horrifies us – like this week's comments about NY Senator Kirsten Gillibrand?
Can we all agree, the president's claims that the FBI reputation is in tatters is simply wrong?
Can we all agree, the rest of the country may not understand the impact of the San Francisco Mayor Ed Lee, but the city's transformation under his watch has been dramatic?
Can we all agree, every time Mr. Trump attacks the credibility of the women accusing him of sexual harassment, he strengthens their case?
Can we all agree, the White House has set records for the number of judicial appointments confirmed by the Senate, but the quality of the nominees leaves serious questions about their ability to do the job?
Can we all agree, Secretary of State Rex Tillerson needs to resign – sooner rather than later?
Can we all agree, the administration's attempts to build a coalition against Iran bears an eery resemblance to Colin Powell's demonstration of Saddam Hussein's missiles?
Can we all agree, Jared Kushner, the President's son-in-law, is preparing for the worst?
Can we all agree, the GOP campaign to discredit Special Counsel Robert Mueller, will have little impact, once more indictments are issued?
Can we all agree, the world is moving ahead to combat climate change while the US prefers to suffer the consequences in silence?
Can we all agree, the administration's vetting of candidates for top level jobs, continues to result in embarrassing nominees?
Can we all agree, Disney's purchase of Fox Studios could make for some interesting combinations – such as Bart Simpson in the next Toy Story movie?
Can we all agree, Republicans seem oblivious to the plight of children losing health care, despite bipartisan agreement that the program should be funded?
Can we all agree, we need scorecards, to keep track of the regulations and presidential edicts, which have been blocked by the courts?
Can we all agree, last weekend's Saturday Night Live opening skit was among their best?
Can we all agree, It's been an interesting week in science from Jurassic Park-like discoveries, to strange visitors from beyond our solar systems to a planetary system similar to ours?
Can we all agree, this is probably the only administration, that could make the departure of a low-level executive, into a reality TV show?
Can we all agree, The USA Today editorial on Donald Trump should be required reading for everyone?

CWAA: Can We All Agree – 1/23/16 edition
January 23, 2016
Can we all agree that Sarah Palin's injection into the GOP presidential race, raises the absurdity quotient to unimaginable heights? The happiest folks are the late night talk show hosts and comedians worldwide.
Can we all agree that until Ms Palin's speech, Mr. Trump's performance at Liberty University was the week's biggest head-scratcher, narrowly edging out the British parliament's debate over banning Trump?
Can we all agree that her endorsement speech might be the the most illogical batch of nonsense ever uttered during a political campaign – at least until she gives her next speech?
Can we all agree that Michael Bloomberg's reported interest in running for president as an independent, throws a monkey wrench into everything? Wait, isn't this the year of the monkey coming up?
Can we all agree there is enough blame for everyone in the Flint water crises but the Michigan governor and the EPA deserve special mention?
Can we all agree that the Academy of Motion Pictures had to do something about their overwhelmingly older white male voting base?
Can we all agree that after three weeks of rain,  it's nice to know we might be making a dent in the California drought?
Can we all agree that no-one is surprised that Mr. Putin may have known about the poisoning of a former agent who had defected to England? The number of political adversaries who have mysteriously disappeared makes his tactics pretty obvious.
Can we all agree that if scientists confirm the existence of a new planet the name has to begin with a "P" so we can get back to the old sentence we all learned, to remember the names of the celestial bodies circling our sun?
Can we all agree that it will probably be just about a year before we have a new winner in the 'hottest year' competition?
Can we all agree that the Supreme Court's decision to take up the challenge to the President's immigration plan, insures that the topic will be front and center right through the November election?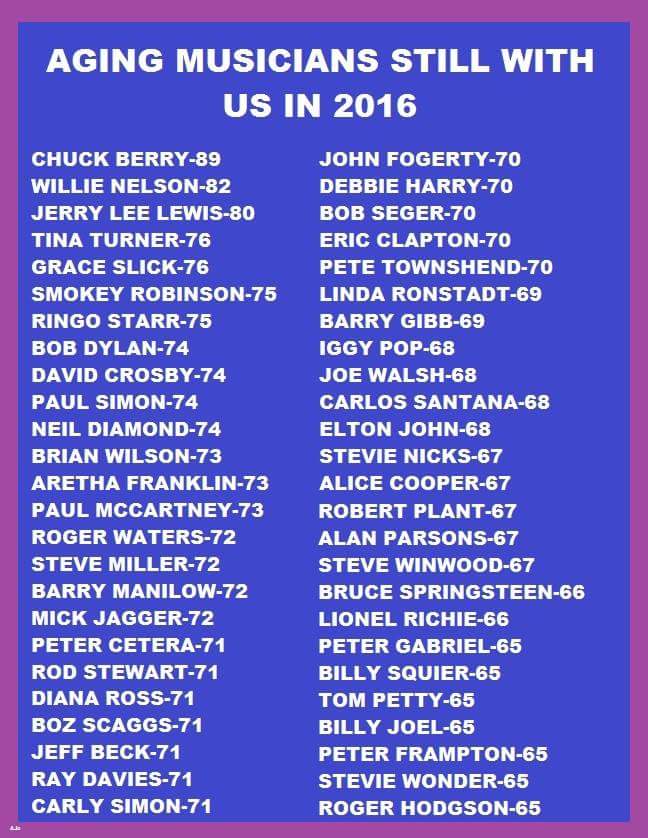 Can we all agree that we have lost another major talent with the death of Glenn Frey?
Can we all agree that last week's Democratic debate may have been a Sanders victory, but most non-GOP voters are interested in backing someone who might actually win?
Can we all agree that Delaware North Corporation deserves all the scorn they are getting for demanding $51 million for the naming right to the Ahwahnee Lodge and other landmarks in Yosemite National Park?
Can we all agree that it will be a welcome day when media outlets can stop proclaiming he 'first women' being elected to lead a country? Taiwan elected a woman and the sky did not fall, the next day.
Can we all agree that the lifting of the sanctions against Iran and allowing that nation to participate in world politics will help ease world tensions in the long run?
Can we all agree, speaking of planets, it's probably worth an early morning walk to see the five planets that all be visible from earth (below) simultaneously?