CWAA: Can We All Agree – 12/3/16 edition
December 3, 2016
Can we all agree the 178,000 jobs created last month proves, once again, that the economy created by Mr. Obama is the strongest in the world?
Can we all agree, most Americans have been too preoccupied to notice the troubles brewing in France and Italy?
Can we all agree it's great to have a rock-star chess champion?
Can we all agree Vladimir Putin is already trying to take advantage of the change in US leadership?
Can we all agree we hope Howard Schultz made a better choice for his replacement this time, than he did when he retired from his post at Starbucks a few years ago?
Can we all agree the Colombian government did the right thing in quickly approving a new peace agreement with FARC rebels?
Can we all agree OPEC will have to cut production a lot more than 4% if they really want to impact oil prices? The fact that they got Russia to agree to cut output is significant.
Can we all agree the re-election of Rep. Nancy Pelosi to her role as House Minority leader is a win for  Democratic Party unity, but also a win for the GOP?
Can we all agree The Princess Cruise Lines and their parent, Carnival, deserve more than a fine for polluting the oceans they travel and then lying about it?
Can we all agree, that despite the cost ($108Billion), tying student loan repayment to income is the right way to help graduates manage their loans?
Can we all agree Mr. Obama's strategy of trying to finalize as many rules as possible before he leaves office might help slow the reversals everyone knows are coming?
Can we all agree James Deligatti should be saluted for his contribution to McDonald's bottom line, but nutritionists everywhere hold him at least partially responsible for the world's obesity epidemic? Second place might go to the inventor of General Tso's chicken.
Can we all agree the Dakota pipeline protest does not look like it will end well for the protestors?
Can we all agree Canadian Prime Minister Justin Trudeau might have been a bit off base in his rosy assessment of Fidel Castro's contributions to Cuban education and health care?
OK, now on to Mr. Trump:
Can we all agree Donald Trump gets more credit for saving 700 jobs (at a cost of $7 million) than Mr. Obama does for creating 178,000?
Can we all agree that, based on his phone calls to the leaders in Pakistan and now Taiwan, Donald Trump has no idea what diplomacy is all about?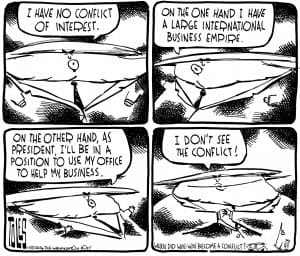 Can we all agree the list of possible conflicts of interest with the Trump presidency, in both real estate and stocks, are almost too long to list?
Can we all agree the silence from the GOP leaders on the obvious conflicts is deafening?
Can we all agree we will have a cabinet of Goldman Sachs, by Goldman Sachs and for Goldman Sachs?
Can we all agree it's mind boggling that a man who was unfit to be a federal judge will now be attorney general?
Can we all agree it's still an open question on whether the deal with Carrier actually saved any jobs, although it's clear the company made $7 million?
Can we all agree, nominating someone who is legally unable to take the post of defense secretary is the definition of hubris?
Can we all agree the clash between the Clinton and Trump campaigns is a microcosm of conversations going on across the nation? Well, maybe a bit more heated…
Can we all agree that a cabinet with 4 billionaires, 3 millionaires and the wife of the Senate majority leader, doesn't sound like a blue-collar administration that will 'drain the swamp'?
Can we all agree everyone is trying to figure out which campaign promises Trump will actually keep?
Can we all agree, it's a bit mystifying that Trump would try to stop the recounts in Michigan, Pennsylvania and Wisconsin?
Can we all agree a twitter Presidency is one thing, a lying President is another, but a lying-tweeting President is an entirely new animal?
Can we all agree, at least all of us in California, are proud that our state university system has stepped up to oppose Trump and help protect students who may face deportation?
Can we ll agree, given the  backlog in immigration courts, adding an additional 3 million cases could delay any deporations until 2020 anyway?
and finally:
Take a look at the secret life of bees.
and ultimately, a story of hope, from the Boston Globe.

CWAA: Can We All Agree – 11/26/16 edition
November 26, 2016
I trust you all had a fulfilling Thanksgiving, and the leftovers are gone by now.
Can we all agree, regardless of your party affiliation, Fidel Castro was a pivotal political figure of the 20th Century?
Can we all agree, the President-elect's response – gleeful celebration – is colored by his past attempts to open a casino in Cuba, rather than any understanding of the historical significance of the event?
Can we all agree the reaction to the start of the election recount process would have been much different if Hillary Clinton had won ?
Can we all agree it's probably not realistic to think the results will be altered? But that hasn't prevented Jill Stein from raising millions to move ahead in three states.
Can we all agree, the recount will do little to dampen the criticism of the Electoral College as Hillary Clinton's lead in the overall vote continues to mount?
Can we all agree the proliferation of fake news for profit, may be the  life preserver traditional edited news content needed to prevent its demise?
Can we all agree the outlandish sums the government will be paying for security of the Trump family, is just one way the new President will profit from his own election?
Can we all agree Melania's decision to remain in New York, at least until the end of the school year, so her son , who some believe has shown signs of autism, can finish the school year, may become  permanent?
Can we all agree the meetings this week between broadcast journalists and later the NY Times, illustrate why Mr. Trump was able to win election by controlling the message through TV coverage? We may be seeing the first Youtube presidency.
Can we all agree Mr. Trump's supporters don't seem to care that he is continuing to turn away from his own campaign rhetoric? In fact, they expected it.
Can we all agree, Donald Trump's business interests, make the Clinton Foundation issues look insignificant? His interests are so widespread they will color almost every decision he makes.
Can we all agree, nothing was more chilling this week than the continuing celebrations in the racist alt-right community?
Can we all agree Mr. Trump's business interests, and his continued focus on them, could be the undoing of his presidency?
Can we all agree, Mr. Trump's financial interest in the Dakota Access pipeline  is just one example?
Can we all agree Mr. Trump's economic appointments, prove once again that he has duped the great majority of the blue-collar supports who put him in office?
Can we all agree the choice of Betsy Devos as education secretary will continue to make it more difficult for traditional public school districts to educate our children?
Can we all agree the new UN ambassador may have a tough job trying to explain Mr. Trump's actions to the rest of the world?
Can we all agree Mr. Trump's decision to forgo security briefings as he focuses on his cabinet choices, illustrates the attitude of most American's toward the rest of the world?
Can we all agree the United States should be paying more attention to the showdown between the EU and Turkey?
Can we all agree the election of Donald Trump and the Brexit vote may have actually strengthened the European Union?
Can we all agree, the news that the FBI now has access to everything posted on Twitter, is very disconcerting?
Can we all agree it was reassuring to see a new peace agreement signed in Colombia, even after voters rejected the first deal?
Can we all agree the widespread fires in Israel will be used by all parties to the Mideast unrest, to further their own causes?
Can we all agree, if you were wondering why the battle over court appointments has become so significant, you need look no further than this week's decisions on new overtime rules or Wisconsin gerrymandering, for an answer?
Can we all agree most American Catholics seem to be OK with Pope Francis' latest pronouncement on abortion?
Can we all agree, speaking of going unnoticed, no-one seems to  care about the ever-changing Olympic medal count, caused by the latest round of doping results?
Can we all agree it will be interesting to see how Mr. Trump counters the inevitable criticism he gets from Mr. Obama once their roles have changed?
Can we all agree the strangest story of the week may be the Exxon-Mobil decision to sue the offspring of its founding father?
Can we all agree, Mr. Obama is in a race against the clock to make sure many non-violent drug offenders  get their lives back?
Can we all agree he's facing the same time constraints as he works to honor the many notable Americans who have supported his presidency?
And finally:
You have to wonder if the turkey pardoned by Mr. Obama really wanted to live in a Trumpian world marked by one drama after another?
and
The good news story of the week of the repo man who saved an elderly couple from losing their car.
RIP, everyone's TV mom, Florence Henderson.