The Cognitive Prism and Emotional Intelligence
December 30, 2015
Career Conundrums
April 18, 2015
Everyone needs a career coach. I realize that's a bit self-severing coming from a career coach, but it's true.
The thought occurred to me this week when I received LinkedIn requests to congratulate my connections who were passing employment milestones.
Everyone has questions, no matter what stage their career has reached.
The new college graduate wonders about accepting a job offer, thinking she doesn't want to 'get stuck' doing 'that job' for the rest of her life.It seems to be a revelation when I point out that the job will change quickly, and in the current  job climate, 1 year may be a career.
Young people who have reached the 1-year mark, start to worry all over again about what they should be doing next. They've had one boss and are convinced they could do his job.
They see a friend or two changing jobs and wonder if they should be looking too. In most cases they haven't even bothered to ask their current employer what their future might look like, if they stayed.
I can remember calls from clients who have been working in the same position for 3 or 4 years and have developed enough maturity to question what they want to do next. Some just know, they don't want to do what they have been doing, but don't realize how valuable that knowledge is. At least they're  beginning to understand how lucky they are to have a choice and how many choices there are.
Ask a lot of older employees with well established careers, and they'll be happy to point out  that they have no idea' how they got to this stage in their careers, it wasn't a plan, it just happened.
Then, there are the long-term employees who have worked for the same company for 5 or 10 years, and have actually earned a reputation and may have gotten a call from a recruiter. The knowledge that someone may actually value your skills has to be weighed against what are now, significant financial and family obligations. The decision gets much tougher since it may involves children, spouses, extended family and a host of other issues.
It's impossible to make decision like that dispassionately, because everyone you talk to, except a coach, has an opinion.
Finally there are people who have spent 20 or more years with one company.These veterans are wondering about all the decisions they have made, and how they just woke up one morning and wondered,  "Is that all there is?" I have yet to meet a client at this stage who doesn't, at some point tell me, "Ya know, what I really want to do is start a company that…" You fill in the blank.
They are often speak glowingly about their idea or dream and the enthusiasm is infectious. The trick becomes trying to figure out why they haven't created their new career. Working through the list of why they can't, is often a revelation and can take several sessions. In the end , they will either realize that they might have a good idea, or that they really just like having the dream.
Whatever career anniversary you're having, a coach can't make decisions for you, but we can make sure you ask the right questions.

Forty Years of Parachutes
September 20, 2011
At 84, you might think that Richard Bolles was ready to slow down. But the author of the seminal career coaching guide, "What Color is Your Parachute," says that after 40 years of updating his work he has no intention of stopping.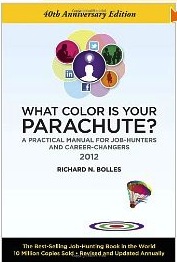 Speaking at a recent meeting of the East Bay Coaches Chapter, Bolles left no doubt he has plenty of new ideas and that his books are still relevant as United States suffers through the worst recession in 60 years.
In an hour-long presentation that ranged from the humble beginnings of his book and career, to comments on modern politics he offered lessons on attitude, re-framing and relevance. Proving that he deserves the honor of the nation's career coach.
He urged members to understand their own needs and experiences as a way to empathize with their clients. "What else do we live for? he asked, "than to use our experiences to help others?"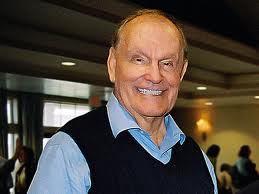 He suggested that coaches need to point out to their clients, depressed about lengthening unemployment, that despite the monthly numbers, there are still 6 million people who change jobs every month. "It's all about attitude," he told the group. Pointing out that if you think you won't get the job you probably won't. "Your job is to help your client be one of those 6 million."
"Looking for a new job is now a survival skill, and we have to look at it that way," he says. "just like food, clothing, or shelter."
He says that while times have changed the basic dichotomy of how people look for jobs and how employers look for employees has stayed the same. "Employers just want to avoid mistakes, but potential employees still think that sending out millions of resumes will get them noticed. It won't."
Bolles has updated his "Parachute" books every year, except 1975, since it was first published in 1970. He includes a coaches appendix in the back but insists that, "people need to keep up. they have to have read my current edition, if they want to be included."
Bolles, who lives in Danville, California, also had some pointed words for politicians, who he sees as short sighted as they cut back on the support system that US job seekers need, but more importantly he bemoans the lack of empathy he sees in Washington.
"I can't believe that politicians and their supporters are cheering at the thought of people without health care, or the number of executions in a state." he notes. Bolles says he has voted for both democrats and republicans, but adds, "this GOP is not mine, their only goal is to make sure Obama is a one-term President, so they can get his job."
Bolles has been proclaimed "America's Top Career Expert" and his books have been called among the most important of the last 80 years. But he says he plans to continue writing, holding workshops, and lecturing. "I'll be updating my books," he says "until I'm forced to say goodbye to my lovely wife."