#CWAA: Can We All Agree – 6/24/2018 edition
June 24, 2018
Can we all agree, it's pretty clear the administration had never envisioned a scenario where migrant children would be reunited with their parents?
Can we all agree, whatever sympathy Melania Trump earned as the 'suffering wife' of her sex-obsessed husband, dissolved with her wardrobe choice?
Can we all agree, the unnecessary trade war Mr. Trump started, will not end well, since other countries have figured out that if you call the President's bluff, he will back down?
Can we all agree, legalized marijuana is a fact in the United States, despite Jeff Sessions objections – even the FDA agrees?
Can we all agree, the only people who don't think Mr. Trump's business dealings represent a conflict of interest are his most rabid supporters?
Can we all agree, progressives underestimated Mr. Trump's supporters in 2016, but they won't in 2018 or 2020?
Can we all agree, restaurant owners might be within their rights to refuse service to politicians they oppose, but it won't be long before we have ratings such as 'GOP friendly' or 'Democratic favorite.'
Can we all agree, this week's Supreme Court decision, requiring warrants for cellphone location data, creates a problem for all those TV shows tracking criminals with cellphone data?
Can we all agree, we should not be immune from criticism from the United Nations, regarding poverty?
Can we all agree, it seems odd that it took Intel over a year to discover that their chief executive had a consensual relationship with another employee before he became CEO?
Can we all agree, the proposed government reorganization is pretty much 'dead on arrival' but it shows the skewed priorities of this administration?
Can we all agree, the plan comes just days after the Senate rejected the administrations proposed spending cuts  offered to soften the blow of the tax  bill?
Can we all agree, it would be great if we had a president young enough to have a child while in office – like New Zealand's Prime Minister?
Can we all agree, The White House has no overriding philosophy other than undoing anything that has President Obama's name on it – this week it was ocean protection?
Can we all agree, a drop in disability claims when the economy improves, suggests that maybe some workers were not as disabled as we thought?
Can we all agree, the United Nations' Human Rights panel has problems, but withdrawing is not the way to promote change?
Can we all agree, it's rather remarkable that no one batted an eye when a newspaper investigation showed a cabinet member may have profited financially from a decision his agency made?
Can we all agree, the administration clearly missed the State Department's "Tips for Traveling with Children" when they developed their immigration plan?
Can we all agree,the Koch brothers care about only one thing, and will oppose anything – even public transportation plans – if they think it will cut into their profits.
Can we all agree, The President's plan for a 'Space Force' sounds like a Saturday morning cartoon?
Can we all agree, it's taken 18 months but some media outlets are finally rethinking the way they cover the administration's propaganda and lies?
Can we all agree, we may not have always agreed with the late Charles Krauthammer, but he was a fine writer and consistent in his beliefs?
and finally:
We should all pause to mark the passing of Koko the gorilla.

CWAA: A Tipping point
January 25, 2016
I recently had lunch at a small hometown restaurant. They served various vegan alternatives, grass fed beef, and all organic vegetables.
But the menu is not the point. When the check arrived I noticed there was no spot for a tip but that an 18% service charge had been added.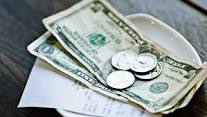 As a San Francisco resident I'm aware of the national debate over tipping in restaurants.
In an effort to equalize pay between front of the house waitstaff, and back of the house cooks and other employees, many  larger restaurants are experimenting with eliminating tips.
This was the first time I had seen it in practice at a smaller business.
In my younger days I spent many hours working as a cook, dishwasher and  bus boy and am painfully aware of the disparity in pay. While the waitstaff is the face of the restaurant, they are dependent on the kitchen for the quality of the meal, the dishwasher to make sure everything is cleaned and the busboys to ensure table turnover.
The dining experience is a combination of everything, so why should the waitstaff be the only folks to benefit.
Minimum wage laws have tried to bridge the gap and have led to the latest version of experimentation.
So, when the waitress returned to collect my payment I couldn't help but do  little market research.
"How long have you been a no-tip restaurant?" I asked.
"Two or three months,"  she said. "And?" I asked waiting for a diatribe on how much less she was making and how she hated the new system.
She surprised me with "I love it," and went to explain that every week they get a full financial statement from the owners, explaining gross receipts, tax and expenses and an explanation of what they were receiving as pay.
"My pay is much more predictable, and while it's a bit less than I made before the switch, as long as business overall is good, we do fine." She said the most of the other staffers felt the same way and that she thought the kitchen staff was much easier to deal with, now that they had a direct impact on their own pay.
She then added that the most important factor was the openness of the owners to list the overall gross receipts and expenses and explain how the pay was calculated. "I can see how that might be a problem at other locations, but here they are very open, and we all know what's going on."
I wish the results at other restaurants had been as clear cut. And, from a management standpoint I doubt every owner would be able to be that open. But this was a small business with a stake in the community and their philosophy seemed to fit the spirit of the no-tip effort.
Can we all agree that all restaurants should adopt this system.
American restaurants should take a page from their European counterparts and professionalize every aspect of the dining experience. We would no longer have to agonize over what tip amount was correct and the the overall restaurant experience would be enhanced.
If everyone from dishwasher to executive chef knew that their pay was contingent on keeping the customers happy and ensuring a return visit we'd all be a lot better off.

Dr. Weil Loses His Way
November 20, 2012
Dr. Andrew Weil's latest book tour stopped in San Francisco  last week. He's on the road to promote his latest literary effort, a cookbook  – True Food – based on recipes he cooks at home and are served in his emerging restaurant chain.
As part of his Weil Lifestyle campaign the book purports to establish a new healthy lifestyle and healthier recipes while rebutting the myth that 'health food' has to be  bland or worse.
Dr. Weil was interviewed at Herbst Theater by fellow cookbook author Molly Katzen who spent an hour fawning of the integrative health guru while leaving it to the audience to ask  controversial questions. Dr. Weil's book offers recipes based on his own food pyramid which, while different from the hated FDA guide, leaves out very few foods that have led to the United States obesity epidemic.
In fact , Dr. Weil probably is a pretty good representative of the US population since he clearly doesn't skimp on any meals. A doctor approaching obesity levels may not be the best spokesman for a healthy lifestyle.
Dr. Weil said he was also scouting sites for a new restaurant – one featuring good healthfood similar to the locations in Los Angeles, San Diego and Phoenix. The fact that the Bay Area has been a leader in the trend Dr. Weil promotes doesn't seem to rate a mention even though places such as Cafe Gratitude, Planet Organic or Gather are way ahead of the good doctor.
Dr. Weil was asked about supplements and admitted that, aside from a daily multi-vitamin, most folks can get all the nutrition they need from a healthy diet. This does seem to question the range of supplements marketed and sold by Dr. Weil on his own website.
Dr. Weil also took a minute to chastise the assembled group for the failure of Proposition 37 the GMO labeling question of the November ballot. "How you could let that fail?" has asked.
No one rose to answer, but I would note there were several folks in the room who had worked very hard to get the proposal on the ballot and promote it's passage. No doubt a few of them were a bit insulted that someone from  Arizona, who did nothing to oppose the $50 million ad campaign put on by the Monsanto and Dow, would criticize their efforts.
Dr. Weil clearly does not oppose GMO food, preferring to wait for more evidence before branding it unhealthy. Of course, some folks would rather that it get proven healthy before allowing it in the food chain.
I'm afraid Dr. Weil has lost his way by promoting a food pyramid that would do little to improve the health of most Americans, selling suplements that he admits are mostly unnecessary and declining to oppose foods that have been shown to be unhealthy.
I'm sure it will do little to hurt his image or  his income.