Time for a Little Dirt
July 29, 2010
It was interesting this week to read the New York Times article pointing out the steps botanical gardens around the country are taking trying to lure visitors. It seems the public has lost interest in gardening.
I say it was interesting, because I'm just finishing up Michael Pollan's first book "Second Nature." I'll do a formal book review when I'm done but I have to say that Mr. Pollan and I probably don't need anything extra to coax us into visiting anyplace that defines itself as botanical.
Pollan is better known these days as an expert on what we should or should not eat, but "Second Nature" displays his roots as an avid horticulturalist. No pun intended.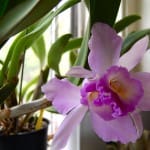 I have over 100 rose plants in my back yard and while my gardening area would qualify as tiny, by most standards, I've also managed to squeeze in a section devoted to rhododendrons, as well as a small corner filled with perennials. This doesn't count the front where day lillies and iris hold court.
Most popular question I get asked is, which is my favorite. I give the same answer you'd give about your children – they all are. Each has its day when it's just perfect and each can be frustrating a hell.
I don't mind admitting that I have a green thumb, always have and always will. I'm told I get it from my grandfather, but all I know is that everywhere I've ever lived flowers and vegetables have followed. I make no apologies for spending a Saturday in my garden while the rest of my neighbors hire people to make their yard look nice.
Others see gardening as a chore, I find it relaxing and immensely rewarding – even if no one notices.
I browse my local garden center, just like my wife shops at Nordstrom's. Some days I'll find something to bring home and other days I just look. You can always find room for a new plant.
I'm sure I'll have some future posts about my roses or even my orchids but for now it's back to the garden.

The New Jounali$m
July 26, 2010
The Real Eco-Story
July 16, 2010
Finding Your Vocation
July 12, 2010