Would You Reprint Charlie Hebdo's Cartoons?
January 13, 2015
Ever since the attack on Charlie Hebdo last week I've been wondering what I would have done if I were still an editor at a newspaper.
The day after the attack, I was consumed with embarrassment for my profession when so few papers, who reported the murders, printed any of the offending cartoons.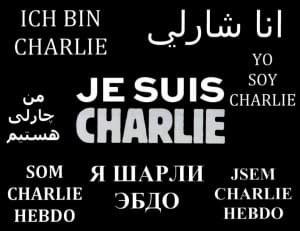 As part of their coverage some publications in Europe did print a cartoon, but except for the Washington Post, I'm not aware of any major US publications who printed an example.
Even the Post printed the cartoon on the editorial page leaving the news columns free to describe the artwork. They, like the New York Times and other publications, claimed the actual drawing 'were not relevant' and their message could be communicated in words.
Clearly the cartoons were relevant, and just as clearly, mere words could not describe why the cartoons led to the attack. In truth, after looking at a sampling of the cartoons, I found many childish, insulting and tasteless, but I would still defend their right to publish them.
Almost every religion came under attack, but according to some, only the Muslim faith specifically prohibits depictions of their prophet.
My outrage, was tempered by a good friend, recently 'retired' from a small local publication, who noted that if had been editor, he's not sure if, as a married father, he could take the risk of publication, even in a small hometown weekly.
Would the emotions of any editor be any different. Presumably they could all be the mothers or fathers of young children, and publication would open them up to the same fate as Charlie Hebdo's cartoonists.
I guess my anger was more rooted in the excuse that the cartoons "were not relevant" to the story. I just wish the editors would admit they were scared and, while they knew that failure to publish meant the jihadists had won, they would be honest about it.
I had the same thought this week when the new cover of Charlie Hebdo was released and the announcement in my email, only showed half the drawing.
I still don't know what I would have done, were I still the editor of a newspaper or even if I should use a cartoon to illustrate this blog post?
But I hope I would at least be honest with my readers.
Maybe, if somehow everyone published the cartoons, there would be strength in numbers like the 1 million French citizens who marched in defiant solidarity in Paris last weekend.

BFF
August 4, 2011
Today's Rose – plus
October 16, 2010
Moon over San Francisco
October 9, 2010