Our Population Future
July 8, 2017
My good friend Joe Aaron is an economic futurist – someone who gets paid to explain trends and what the future will hold.
I asked him about the recent report that the United States fertility rate had hit a new low, since it features prominently in his  conclusion that the country is headed for real trouble if we, as a nation of immigrants, don't change our policies.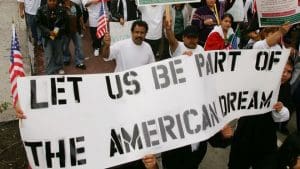 I asked if the news changed his opinion. This is his response:
"The short answer is no. It does not change my thinking on demographics here in the U.S. If you read between the lines, the article describes a part of our population, the Millennials, who are putting off having children and marriage. 
"The number one reason child birth is dropping in the civilized world today is economic. Young people can't afford children anymore or are unwilling to make the financial sacrifices. It cost half a million to raise a kid and send them to college. That explains why 20% of our population decides to stay childless.
"The more educated you are, the less likely you are to have an unwanted pregnancy. Women can now get birth control with ease.
Finally, a woman with a good education can have a career and financial independence. If she decides she wants to have a baby she can. She no longer needs a man.
Where demographics are changing in the in the U.S. is at the state level. For example, Maine's population is actually shrinking each year. Vermont is flat. New Hampshire's population is flat. But they will both join Maine in the dying category this decade.
These three states have a medium age of 42, the highest in the country. The medium age for the U.S. is 37. This means they are an ageing society. This means their citizens are aging out of the work force. If this trend continues, and I have no doubt it will, in 15 years this will impact the state gov't's credit rating.
These three states have an unemployment rates below 3%. This is too low. It puts upward pressure on wages. This in turn puts pressure on a business to consider leaving the state.
If you are a technology company, where are you going to find employees with technology skills? Imagine a recession caused by a lack of workers. It is possible there.
The glass is half empty for small towns and rural area. The kids are all leaving for the bigger cities. It is a brain drain. Manufacturing plants will have jobs that go unfilled. Schools will close.
I find little to be happy about when it comes to our nation's demographics. We better embrace immigration while people still want to come here."

The Cognitive Prism and Emotional Intelligence
December 30, 2015
'Rules' in Need of Adjustment
November 18, 2015
The Monetary Value of Your Job
November 4, 2015
Career Conundrums
April 18, 2015
Can We All Agree – 4/5/15 Edition
April 5, 2015
Can We All Agree – 3/28/15 Edition
March 28, 2015
Can We All Agree? 3/21/15 Edition
March 21, 2015
What I learned at Wisdom 2.0
March 3, 2015
The Wisdom 2.0 Bottom Line
March 2, 2015
Older Posts »