CWAA: Can We All Agree – 7/2/16 edition
July 2, 2016
Can we all agree that whether it's Orlando, Florida, Istanbul, Turkey or  Dhaka, Bangladesh, it's vitally impossible for law enforcement agencies to protect every location on Earth from terrorist attacks?
Can we all agree that when the government releases information on civilians killed in drone strikes on the Friday before a long holiday weekend, they really don't want the public to notice?
Can we all agree that when the husband of a spouse who is the subject of an FBI investigation, meets with the Attorney General, it doesn't really matter what they actually discussed, they should never have met?
Can we all agree that even if one state, California, passes tough gun control measures, it will make little difference  unless there are more stringent national standards?
Can we all agree it's good to know the Antarctic ozone hole has been reduced, but it's tough to know what impact that has on global warming?
Can we all agree that until technology can account for the actions of stupid drivers, the notion that driverless cars will eliminate accidents is just absurd?
Can we all agree that most American are thrilled to see the turmoil that has become British politics after the Brexit vote, because it takes the spotlight off us and the antics of Donald Trump?
Can we all agree that either EU leaders will pay attention to the British vote and make some changes in their system, or they will have a tough time holding their union together?
Can we all agree the world could use a few more leaders like German Chancellor Angela Merkel?
Can we all agree we are amazed the Congress actually found time to come together and pass legislation to help  Puerto Rico escape from its debt crises?
Can we all agree, it would be nice if Congress could stop trying to make political points and actually fund Zika prevention programs?
Can we all agree there is no way to know if the expansion of the Academy of Motion Pictures Arts and Sciences membership has had an impact, until the next time someone says, "The winner is…?"
Can we all agree that actor Jesse Williams did a pretty impressive job of outlining the problem, in his BET acceptance speech?
Can we all agree the Supreme Court may have turned the tide on abortion rights in this country, with their decision this week?
Can we all agree that the expansion of the Panama Canal is an engineering marvel, as long as you done't look too closely at the environmental damage?
Can we all agree the purpose of the House Benghazi Committee investigation into Hillary Clinton's activities never had anything to do with the safety of American diplomats?
Can we all agree there will never be another coach like Pat Summitt?
Can we all agree the brouhaha over the Marine Corps decision to change some job titles is the very definition of a tempest in a teapot?
and finally, we cannot ignore US politics:
Can we all agree Donald Trump has successfully scared the crap out of his own party by blasting free trade which has long been a cornerstone of GOP policy?
Can we all agree it's starting to look like Hillary Clinton and Elizabeth Warren might become a pretty impressive Democratic ticket?
Can we all agree the GOP convention in Cleveland may be the first time no politicians, other than the party nominee, gave a speech? No-one in the GOP apparently wants to attend.
Can we all agree we have to give Trump some points for resilience, no matter how many scandals or inconsistencies are uncovered he just makes believe they don't exist and conjures up another lie to satisfy his supporters?
Can we all agree that whether Trump chooses Chris Christie or Newt Gingrich to be his running mate, it will make little difference in the election's outcome?
And finally, really:
Can we all agree it's tough not to root for Michael Phelps to win a few more Olympic medals?

Can We All Agree – 11/14/15 edition
November 14, 2015
Can we all agree that the carnage in Paris will bring the war on terror to a whole new level?
Somehow it seems obscene to include commentary on last night's events in Paris with Donald Trump's latest irrational diatribe, so I will delay my regular column of "Can We All Agree" until tomorrow.
We are all Parisians

Would You Reprint Charlie Hebdo's Cartoons?
January 13, 2015
Ever since the attack on Charlie Hebdo last week I've been wondering what I would have done if I were still an editor at a newspaper.
The day after the attack, I was consumed with embarrassment for my profession when so few papers, who reported the murders, printed any of the offending cartoons.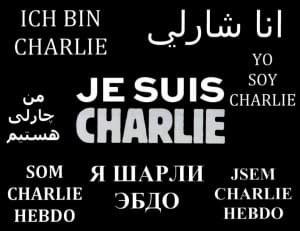 As part of their coverage some publications in Europe did print a cartoon, but except for the Washington Post, I'm not aware of any major US publications who printed an example.
Even the Post printed the cartoon on the editorial page leaving the news columns free to describe the artwork. They, like the New York Times and other publications, claimed the actual drawing 'were not relevant' and their message could be communicated in words.
Clearly the cartoons were relevant, and just as clearly, mere words could not describe why the cartoons led to the attack. In truth, after looking at a sampling of the cartoons, I found many childish, insulting and tasteless, but I would still defend their right to publish them.
Almost every religion came under attack, but according to some, only the Muslim faith specifically prohibits depictions of their prophet.
My outrage, was tempered by a good friend, recently 'retired' from a small local publication, who noted that if had been editor, he's not sure if, as a married father, he could take the risk of publication, even in a small hometown weekly.
Would the emotions of any editor be any different. Presumably they could all be the mothers or fathers of young children, and publication would open them up to the same fate as Charlie Hebdo's cartoonists.
I guess my anger was more rooted in the excuse that the cartoons "were not relevant" to the story. I just wish the editors would admit they were scared and, while they knew that failure to publish meant the jihadists had won, they would be honest about it.
I had the same thought this week when the new cover of Charlie Hebdo was released and the announcement in my email, only showed half the drawing.
I still don't know what I would have done, were I still the editor of a newspaper or even if I should use a cartoon to illustrate this blog post?
But I hope I would at least be honest with my readers.
Maybe, if somehow everyone published the cartoons, there would be strength in numbers like the 1 million French citizens who marched in defiant solidarity in Paris last weekend.