A Good Book Undone
December 24, 2012
Politics has undermined a look of good things in this country recently, but I never thought I'd accuse it of ruining a perfectly good book.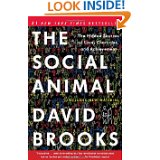 I guess it's not the politics, but rather  author David Brooks, who I should blame for my disappointment in his exploration of what he calls our 'revolution in consciousness.'
Brooks attempts to meld fiction and science by explaining  advances in neuroscience, genetics, psychology, sociology and economics through the real lives of two fictional characters. He follows them  from conception to death explaining to us what's really going on both consciously and sub-consciously.
Anyone who has read the current literature on neuro-psychology, behavioral economics or social theory will be familiar with the concepts, but Brooks does a nice job of translating the theories into real life.
Brooks, who is a New York Times columnist, write in a clear and linear style like may journalists, and his work is both believable and entertaining.
His biggest problem is his detour into politics. While Brooks is known for his conservative views, they are not the problem. My issue is with the method. The female character Brooks creates overcomes a poor childhood to excel in school and career. There is no inkling that she has slightest interest in politics but then suddenly at the height of her corporate career, she is named the head of a national presidential campaign, which lands her a job in the White House. Her husband takes a job in a Washington 'think tank' and becomes the mouthpiece for Brook's views about governing, politics and the American political system.
Just in case you weren't sure what he was doing, the charcater emphasizes that the only person who agrees with him is an 'unnamed' New York Times columnist.
The whole chapter seems contrived and out of place and detracts from the excellent work Brooks does to bring both his characters and scientific theory to life.
Despite this flaw Brooks work is very readable and is an easily understandable look at the science. Especially outstanding is his look at death and dying on the final pages.
So, you can skip chapters 19 and 20 if you don't want to let politics ruin a good read, but certainly the other 20 chapters are well worth your time.

Happiness is Everywhere
April 5, 2012
Suddenly, it seems that we are consumed with the search for one of our 'inalienable rights.' It's not that Americans just rediscovered the Declaration of Independence, or Will Smith's 2006 movie, but rather, it seems to be the latest social science trend.
Consider it the replacement for behavioral economics the science that became popular after the book Freakonomics tried to explain how economics could explain human behavior. For a few years there was a new book out every month explaining why humans are irrational and how we could be led to do anything with the right incentive.
Now, it seems that happiness, and the apparently futile search for it, has reached the top of the grad student research list. Last month Harvard Business Review (subscription required) focused a whole issue on employee happiness; two weeks ago I received a brochure advertising a full day seminar offered in 8 convenient locations guaranteed to provide me with "effective ways to measure happiness."
Daniel Gilbert's "Stumbling on Happiness," a 2006 best seller may have sparked the recent interest. Gilbert's book is a well-written and very interesting explanation of how humans define happiness, what it is or is not, and a slightly depressing conclusion that the human mind may never allow us to truly understand what will make us happy. He offers some solace that, at least now that we understand how the human mind works, we will know why we can never  find happiness.
Interestingly the writing style and reasoning of the book is quite similar to many of the behavioral economics books, such as "Nudge" or Dan Ariely's "Predictably Irrational."
Andrew Weil's "Spontaneous Happiness," takes a different approach, offering suggestions for helping us find happiness. His is a less scientific approach and is more a lengthy essay on his own observations about happiness. He offers a number of suggestions of helpful methods to help his readers achieve a state of happiness.
If you are familiar with Dr. Weil's work you will not be surprised that his suggestions run range from yoga and mindfulness meditation to more secular pursuits such as social activities or laughter. He even offers an '8-week Program for Optimal Well Being."
Dan Buettner, author of "Blue Zones' which explores circumstances surrounding the lives of the world's oldest citizens has offered "Thrive – Finding Happiness the Blue Zones Way." He investigates (and I use that term very loosely) the places around the planet judged to include the happiest populations according to annual surveys.
With apologies to Walt Disney, among the happiest places on earth appear to be parts of Mexico, Denmark, Singapore and San Luis Obispo, California. Even Buettner doesn't seem to believe that any place in Mexico could be judged happy given the violence, but he doesn't let that stop him from interviewing the population in an attempt to compile a list of factors that will lead to happiness.
After his trips, Buettner develops a list of "Finding Ways to Thrive" which includes items such as 'put friends first,' 'grow a garden' or 'get into teaching.' While many of his suggestions are valid, and some may apply to a lot of readers, his list is so long and tries to be so inclusive that it's almost useless in trying to help anyone find happiness.
I have no idea what the answer is. Even Gilbert notes that happiness may be impossible to measure because we all use a different scale. A good friend of mine once suggested that unhappiness is caused by expectations not meeting reality. Maybe the answer lies in taking a more honest look at assessing what your own reality is.  And that's something a coach can help you figure out.