Can We All Agree – 8/20/16 edition
August 20, 2016
Can we all agree it will take more than one dramatic photo of a dazed little boy, to force the warring factions in Syria to stop fighting and get serious about ending a war that no one can win?
Can we all agree the actions of Ryan Lochte and his fellow swimmers are probably the biggest unforced error in Olympic history?
Can we all agree the whole episode just takes the spotlight away from the spectacular performance of the athletes?
Can we all agree the actions of distance runners Nikki Hamblin and Abbey D'Agostino should be the story that gets the most attention?
Can we all agree the United Nations should be embarrassed that it took them 6 years to admit their soldiers brought cholera to Haiti?
Can we all agree that we have no interest in getting a ride from one of Uber's planned driverless cars in Pittsburgh? Maybe they knew a SF judge was going to reject their proposed settlement with drivers?
Can we all agree that it would be a lot more comforting to wait five years for the Ford fleet to become available?
Can we all agree the only reason Donald Trump went to visit Louisiana flooding victims was to embarrass the President?
Can we all agree Mr. Trump's "teleprompter regret" didn't come close to an apology?
Can we all agree Mr. Trump needs to look no further than this week's news from Washington state, to see the impact of his hateful speech?
Can we all agree Mr. Trump's latest campaign reorganization is probably his last gasp? Or maybe it's a death rattle?
Can we all agree the change was inevitable once the word got out about Ukraine's secret payments to campaign manager Paul Manafort?
Can we all agree Mr. Trump's plan for increased vetting of Muslim's entering the country, is just wrong on every level? Even conservatives are dismayed.
Can we all agree that adding Roger Ailes to your list of advisors, probably won't win you any female votes?
Can we all agree real panic has set in with the GOP, as they ponder losing control of both the House and Senate?
Can we all agree, if Hillary Clinton is elected, she and her husband should give up any role in their foundation and maybe even close it down?
Can we all agree a judge's decision forcing Mrs. Clinton to submit written answers to questions about her use of a private email server, will uncover few new facts and just keep the issue alive – which is exactly the point?
Can we all agree the Obama administration's explanation  about the money paid to Iran, when hostages were released, is still just linguistic gymnastics?
Can we all agree, that with no rain due until November, California firefighters have their work cut out for them?
Can we all agree the Justice Department's decision to gradually eliminate using private prison firms for inmates should be copied by the states?
Can we all agree that. if Kamala Harris is elected as California's next senator she will be featured at the 2020 convention and will find her way on to the presidential ticket in 2024? You read it here first.
Can we all agree there probably won't be many young 'snowbirds' vacationing in Miami this winter?
Can we all agree the GOP is now getting another black eye from it's own candidates for not approving any money to fight the Zika virus?
Can we all agree, if former Boston Red Sox pitcher Curt Schilling runs against Elizabeth Warren for US Senate, it will be a replay of the Trump campaign, just on a smaller scale?
Can we all agree the Social Security Administration's plan to get seniors to confirm their identity by using text messaging, had to be dreamed up by an out of touch millennial?
Can we all agree that we don't understand the French ban on Burkinis at the beach?
Can we all agree it's one thing to steal  DNC emails but quite another to hack the NSA?
Can we all agree this may be the week the California drought was declared over, but we still have water problems?
Can we all agree, it's easy to understand the frustration in Milwaukee, but they may have chosen the wrong incident to express their emotions?
Can we all agree the former Pennsylvania Attorney General needs to understand that all is fair in politics, unless you break the law?
and finally:
Can we all agree David Brooks and Jennifer Rubin, two conservative columnists,  could speak for all of us?

A Good Book Undone
December 24, 2012
Politics has undermined a look of good things in this country recently, but I never thought I'd accuse it of ruining a perfectly good book.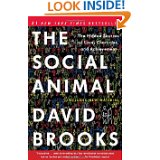 I guess it's not the politics, but rather  author David Brooks, who I should blame for my disappointment in his exploration of what he calls our 'revolution in consciousness.'
Brooks attempts to meld fiction and science by explaining  advances in neuroscience, genetics, psychology, sociology and economics through the real lives of two fictional characters. He follows them  from conception to death explaining to us what's really going on both consciously and sub-consciously.
Anyone who has read the current literature on neuro-psychology, behavioral economics or social theory will be familiar with the concepts, but Brooks does a nice job of translating the theories into real life.
Brooks, who is a New York Times columnist, write in a clear and linear style like may journalists, and his work is both believable and entertaining.
His biggest problem is his detour into politics. While Brooks is known for his conservative views, they are not the problem. My issue is with the method. The female character Brooks creates overcomes a poor childhood to excel in school and career. There is no inkling that she has slightest interest in politics but then suddenly at the height of her corporate career, she is named the head of a national presidential campaign, which lands her a job in the White House. Her husband takes a job in a Washington 'think tank' and becomes the mouthpiece for Brook's views about governing, politics and the American political system.
Just in case you weren't sure what he was doing, the charcater emphasizes that the only person who agrees with him is an 'unnamed' New York Times columnist.
The whole chapter seems contrived and out of place and detracts from the excellent work Brooks does to bring both his characters and scientific theory to life.
Despite this flaw Brooks work is very readable and is an easily understandable look at the science. Especially outstanding is his look at death and dying on the final pages.
So, you can skip chapters 19 and 20 if you don't want to let politics ruin a good read, but certainly the other 20 chapters are well worth your time.